Stop Buying "KETO" Weight Loss Pills That Promise Overnight Results!!
It's Monday, August 9th, 2021 at 8:00 in the morning. I've received not one, not two, but 16 phone calls throughout the night from people who have been scammed by a product called "keto gt". Apparently MY phone number and email address is attached to their invoice as a "customer service" number. 😳

Please know, this is NOT me, nor will I ever sell you a diet pill that I will promise 40 pounds of weight loss in a month. NEVER EVER EVER. But, I promise you, I did look into this.
So What Is Keto-GT?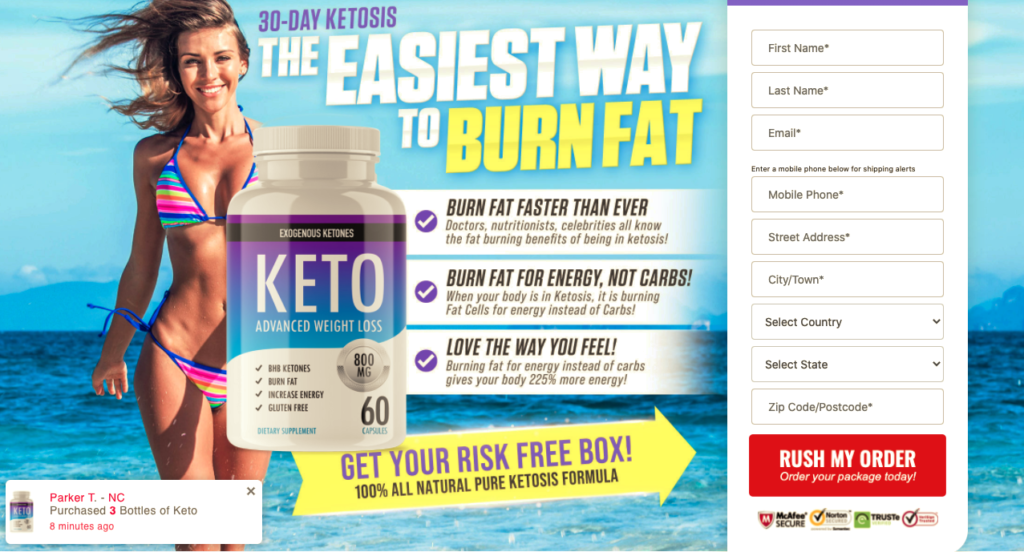 To tell you the truth, who the hell knows! I've found so many different "shark tank keto pills" related to KETO GT through a quick google search, I couldn't tell you which one it really is?
Different Names, Same Scam
Every time you click on the link you get a different name. Just in a matter of minutes, we got the following names:
Purefit Keto
Keto GT
Keto Burn
Keto Advanced
One Shot Keto
Keto Rapid Max Pure
TRUUBURN Keto
Keto Legend
Holistic Bliss Keto
Keto Supreme
Keto Max Burn
Keto RX
Envy Naturals Keto
Shark Tank Keto Diet Pills
What is the Big Issue with these Keto Scam Diet Pills?
These keto diet scam pills make ludicrous claims like being "scientifically proven to block fat," but they have no explanation as to how they work. There are Zero ingredients listed for these so called magic capsules.
They rope you in by promising a free bottle of magic keto pills and free shipping but don't tell you there is an automatic renewing fee. There are numerous complaints online on the Better Business Bureau's website about getting charged $90+ after trying to cancel the subscription. Or, they say you can buy one bottle for $39.95 and then you end up getting charged a whopping $299.99!! (per previous phone conversations I've had this morning already)
Diving deeper into fraudulent keto claims, we came across the Shark Tank keto diet pills that were supposedly the biggest deal ever in the show's history… The problem is that they were never on Shark Tank. The photos they used from Shark Tank were stolen from different women, and the news reporters' photos for their website were also stolen.
Beyond Losing Money: What is the Bigger Issue?
Losing money is terrible, but what is even worse? Damaging someone's health.
We don't know what ingredients are in these pills and they are completely unregulated. Not to mention these pills won't work. What's the result of all these potential health risks and no results? People who take these keto scam pills will blame the ketogenic diet and exogenous ketones for not working rather than the shady company.
How Do I Spot a Scam?
Here are a few red flags you should watch out for when buying any product claiming to be keto:
Are the ingredients listed?
Can you find REAL reviews on reputable websites?
If they are on social media, do they tag the original poster of before and after photos?
If it is BHB, is it in a pill? (it is very difficult to fit an efficacious dose of BHB in a pill our capsules require a 6 capsule serving because it is so difficult!)
Are they Ketogenic Certified? (Earning the title of Ketogenic Certified means that they have been tested for efficacy and artificial sweeteners.)
Toni's Advice
If you know me, you know I'm all about offense and I'm about to go on all-out offensive front educating stronger than ever about keto as it relates to the diet and even exogenous ketones. Both can and do have an impact on optimizing human potential, but when taken at of context, it brings a negative clout to the entire conversation. I believe this is a conversation worth protecting.
Do not fall for the keto scams. BHB salts have their place in the ketogenic diet but they are definitely NOT a cure all. If you're looking for a customer service number for these "keto pills" I've found one centralized number related to over 20 products. It's 1-833-985-3118.
Real Advice | Real People | Real Results
That's our mission here at TS Transformations. We have built a community of thousands with great success stories. The real truth- it's not going to happen overnight. TS Transformations does have HIGH QUALITY supplements to help you on your journey being used by thousands with amazing transformations. If you want real coaching, real results and real advice, please join our community here.
Toni Sweeney is a Triple Certified Ketogenic Diet and Primal Health Coach and weight loss expert who personally lost 80 pounds while making a total lifestyle change. The founder of TS Transformations, her formulas and plans has helped thousands of women lose weight and keep it off forever.